About Fairtrade
where to buy
You are here :
Fairtrade Marks
Fairtrade Marks
The FAIRTRADE Mark is used on the front of packaging to signify that all ingredients that can be sourced as Fairtrade, are Fairtrade. This could be on a single ingredient product like a banana or coffee, or a product with several ingredients, like ice cream or a bar of chocolate. In the case of textiles or in gold or silver jewelry, 100 percent of the cotton, gold or silver content must be Fairtrade certified.
The FAIRTRADE Program Mark can be used on the front or back of product packaging. A company can also choose to communicate their commitment through their website or annual or sustainability reports without using the FAIRTRADE Program Mark on any products. The FAIRTRADE Program Mark is used in conjunction with a special Fairtrade Program Statement of support for small-scale farmers, to point out to consumers that it is a different sourcing idea, based on one or two raw products at greater volumes.
The meaning of the FAIRTRADE Mark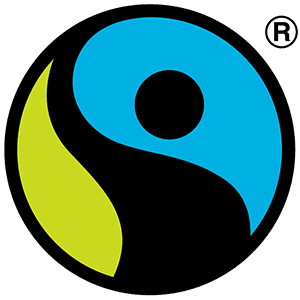 empowerment

·

optimism

·

growth

The unique FAIRTRADE roundel symbolizes the relationship between consumers and campaigners, companies and traders, farmers and workers in a joint endeavour to improve lives and wellbeing through everyday shopping. The roundel incorporates a blue sky symbolizing optimism, green for growth and a raised arm for empowerment. Together they represent the vision and values of Fairtrade as a modern movement.
The Fairtrade Mark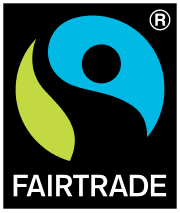 The FAIRTRADE Mark is recognized by consumers around the world as the leading social and sustainable development Mark. It inspires high trust in consumers around the world that a considered purchase improves the lives of people and communities in developing countries.
The FAIRTRADE Mark can be found on a wide range of products – numbering over 27,000 around the globe – including food and drinks, cotton and clothing, and even jewelry made from Fairtrade gold and other precious metals.
Single ingredient products – If you're looking at a bag of Fairtrade coffee or a bunch of Fairtrade bananas with the FAIRTRADE Mark, 100% of the product meets the Fairtrade Standards.
Composite products – For products like cookies, ice cream and chocolate bars, all ingredients that can be sourced as Fairtrade must be Fairtrade. This is the 'all that can be' principle. The percentage of each Fairtrade ingredient must be displayed on the back of the pack. And at least 20% of the content must be Fairtrade certified. Many companies go above and beyond that.
Traceability – Most Fairtrade products are physically traceable. This is not required for cocoa, sugar, fruit juices and tea. More details here.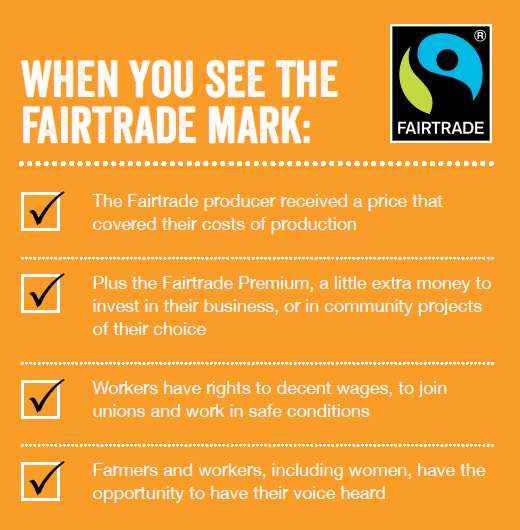 Products with the FAIRTRADE Mark are available in more than 120 countries. In Belgium, France, the Netherlands and Switzerland, the Mark will also include the words 'Max Havelaar' below FAIRTRADE.
Products with the FAIRTRADE Mark must meet international Fairtrade standards. These are set by the international certification body Fairtrade International. These standards are agreed through research and consultation withmembers of the Fairtrade scheme, including farmers and workers themselves, traders, NGOs, academic institutions and labelling organizations such as the Fairtrade Korea.
If you want to make commercial use of the Mark, you must submit the artwork to Fairtrade Korea for approval.
The FAIRTRADE Mark is the exclusive property of Fairtrade International and internationally registered as a trademark (No. 0026 06 994. UK national registrations no. 2477914 & World Intellectual Property (WIPO) no. 806 431).
Learn how to put Fairtrade Mark on your product here
The Fairtrade Sourcing Program Mark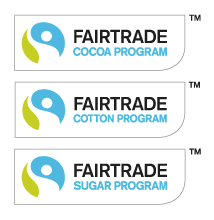 If you see the FAIRTRADE Program Mark for cocoa, sugar or cotton, it means that the indicated commodity has been sourced as Fairtrade. This provides more options for consumers to support Fairtrade farmers through everyday shopping and greater sales opportunities for farmers.
The FAIRTRADE Program Marks represent the Fairtrade Sourcing Programs, which honour the way that different companies do business. Some companies source all that they can as Fairtrade. Some companies source all that they can as Fairtrade. Others want to source 10 percent, 30 percent or even all of their overall volumes of an individual ingredient on Fairtrade terms. This new program allows companies to commit to Fairtrade and source large volumes of individual Fairtrade ingredients.
With the introduction of the FAIRTRADE Program Marks, Fairtrade is innovating in our system to secure greater sales volumes for Fairtrade producers and provide more options for companies and consumers. The FAIRTRADE Program Mark began appearing on products in select markets in early 2014.
Sponsors

News & Events
Licensees
Distributors